The Devils Reign is a limited edition hardcover art book curated by Peter H. Gilmore, High Priest of The Church of Satan. The exhibit features over 60 of the world's best tattooers, illustrators, and sculptors, including the hellish hiearchy of The Church of Satan.
Artwork in the exhibit depicts devils from cultures around the world listed in The Satanic Bible's Infernal Names section written by Anton Szandor LaVey, founder of The Church of Satan. The show also includes depictions inspired by H.P. Lovecraft's Cthulu mythos. Art in the book/show ranges from watercolor illustrations to pen and ink, sculpture and photography.
"Meet Hellish personages from the legendary hierarchy of Hell in The Devils Reign. The "supervillains" of past ages, wrought with exquisite skill and splendid imagination, are gathered here in the ultimate rogues gallery."
"For the first time, the legendary denizens of Hell as denoted in LaVey's The Satanic Bible are evoked in brilliant, blasphemous detail for you to savor."
– Peter H Gilmore, High Priest, The Church of Satan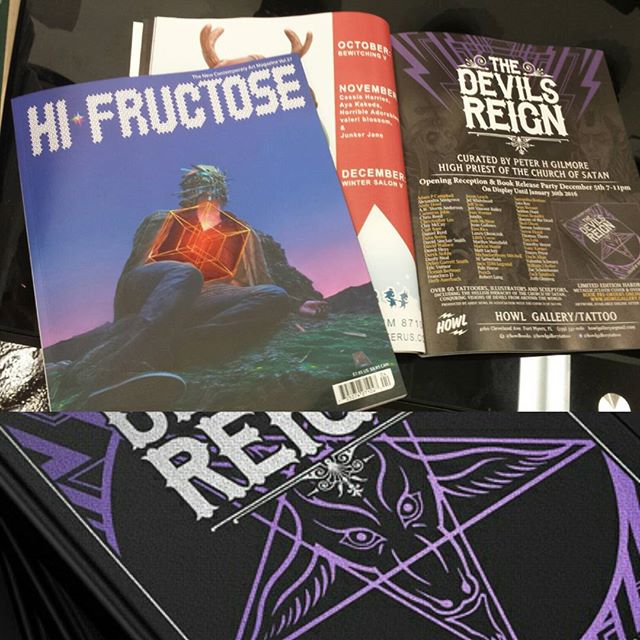 Book Features:
– 3 page Introduction by Peter H Gilmore, High Priest of the Church of Satan.
– Book Measure 9″x12″
– Cloth bound hard cover with 2 color metallic imprint.
– 92 color pages on heavy 100# archival matte paper.
– Over 60 tattooers, illustrators and sculptors.
– Foreword by tattoo artist and publisher Andy Howl.
– Published by HOWL Books in association with The Church of Satan.
– SOLD OUT! A 2nd edition will eventually be printed.